Culture & Benefits
Our Core Values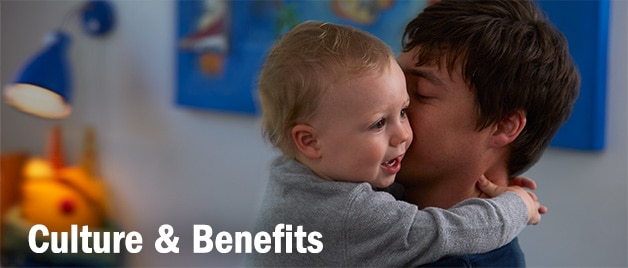 A Family Culture
Meijer was built on one family's dream – but our success throughout the years has been shaped by dynamic professionals with diverse talents. Together, we believe in doing great work in our stores, distribution centers, manufacturing facilities and corporate offices, while always taking care of what's truly important – family. We're an expansive but nimble company, delicately balanced to provide excellent service to both our customers and our team members.
Meijer Core Values
As the world around us evolves and changes, one thing remains constant at Meijer – our core values. They inform everything we do, from how we've developed our culture to how we approach everyday challenges.
Customers: Fred Meijer always said, "Customers don't need us, we need them." At Meijer, we focus on our customers and thrive by meeting their needs and exceeding their expectations.
Competition: Retail is a fast-paced business that demands continuous improvement. Meijer is committed to keeping our competitive spirit strong and staying nimble and flexible to win in the marketplace.
Family: Meijer is a family business. We believe in treating each other with dignity and respect. We are committed to strengthening the communities we serve.
Freshness: Meijer is known for freshness. A focus on fresh food, fresh thinking and innovation makes us better at serving our customers.
Safety & health: Meijer provides a safe and healthy environment for our team members. We create a safe shopping experience for our customers and offer products and services to help our customers lead healthier lives.
Team Member Benefits
We believe in taking care of everyone who walks through our doors – both customers and team members. That's why we offer competitive benefit packages that can be customized to meet your needs. Depending on your position, location and length of employment, your benefits may include:
Medical/Prescription Coverage
Dental/Vision
Flex Spending Accounts
Disability Protection and Worker's Compensation
401K Plan with Company Contributions
Paid Time Off
Employee Discount
Life Insurance
Adoption Insurance

Diversity at Meijer
Meijer is an Equal Opportunity Employer. We foster a diverse and inclusive workplace, and we're committed to treating all team members like family – with dignity and respect. Our company's policy is to treat all team members and applicants for employment equally, without regard to their race, color, national origin, religion, sex, age, disability, sexual orientation, gender expression or identity, or any other lawfully-protected classification. Our policy also provides team members and applicants with reasonable accommodations for their disabilities or religion.
Life in Grand Rapids
The culture of a company is inspired by the city where it's headquartered. At Meijer, we couldn't be more proud to be a part of Grand Rapids, Michigan. Our team members can enjoy the culture, arts and leisure activities in one of the liveliest downtowns in the Midwest, all while taking in the natural beauty of West Michigan – with a short drive to the shores of Lake Michigan.
The downtown entertainment district offers a vast selection of comedy clubs and theaters, in addition to the bars and breweries that made Grand Rapids the official Beer City, USA.
Food lovers can explore the Downtown Market or any of the renowned farm-to-fork restaurants for fresh, artisan offerings for which the city is known. And with events like ArtPrize, the world's largest art competition, and the sheer number of downtown museums, few cities the size of Grand Rapids can match its dedication to art, history and culture.
From a commitment to fresh ideas and fresh food, to the big-city offerings wrapped in small-town values, Grand Rapids is more than just the place Meijer calls home. It's an important part of who we are. Join us, and make Grand Rapids part of who you are, too.
Explore Grand Rapids